State CIO recognized by peers as IT 'Trailblazer'
Posted on Jun 22, 2017 in News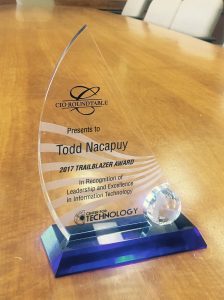 The Center for Technology (CT) and the Texas Technology Consortium (TTC) in June 2017 recognized CIO Todd Nacapuy with the 2017 Trailblazer Award in recognition of individual leadership and excellence in information technology in the public sector.
"Under Mr. Nacapuy's direction, the State of Hawaii Office of Enterprise Technology Services exemplifies innovation and best practices, supports the public policy goals for state leaders, and provides cost-effective services to citizens," CT/TTC Executive DirectorDeborah Giles said.
The award was presented at the CT/TTC CIO Roundtable Conference held from June 4 to 6, 2017, in Colorado. The CIO Roundtable consists of state CIOs, as well as private sector and academic leaders, brought together to exchange initiatives that effectively address the technology and innovation needs of government.
The judges noted that Nacapuy consolidated functions of multiple IT service programs resulting in greater efficiency, and he is leading the public-sector industry by moving Hawaii government to a more paperless future.