IT Governance
Information technology (IT) governance consists of processes and standards guiding the management and oversight of the State of Hawaii's IT and information resource investments, acquisitions and projects, seeking efficiencies and cost-savings through economies of scale, leveraging of shared assets, reduction of waste, and alignment with statewide IT strategies and industry best practices. This includes the implementation of governance and monitoring procedures across enterprise programs and projects to ensure successful outcomes and positive return on investment (ROI) are achieved, to the extent possible, and the efficiently management of the statewide portfolio to ensure projects are prioritized appropriately and resources are sufficiently managed.
Accomplishments
Implemented a mandatory governance process, first announced in December 2015 by Gov. David Y. Ige and CIO Todd Nacapuy, to ensure success for executive branch IT programs and projects. These governance requirements are intended to ensure that tax-payer funds for IT development and modernization programs will be subject to an efficient planning review and approval process, providing the essential state monitoring and oversight necessary so that intended objectives are achieved and positive ROI is realized for the people of Hawaii.
Partnered with the Department of Budget and Finance (B&F), in accordance with HRS section 27-43 (as amended by Act 58, SLH 2016), to incorporate IT governance into the annual budget request process, requiring departments and agencies to develop and maintain their respective multi-year IT strategic and tactical plans and roadmaps as part of the state's overall IT strategic plans.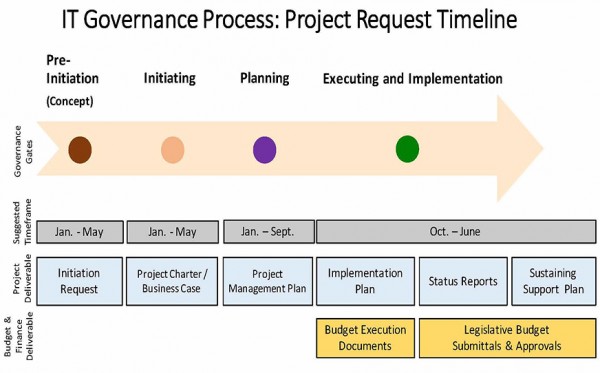 Established an ETS contract management process, where draft requests for proposals and draft vendor contracts for enterprise IT projects and initiatives are reviewed for best practices, and to ensure IT-related terms and conditions favorable to the state are included in the documents.
Refined the IT "request to spend process" to enhance the depth and effectiveness of reviews of departmental hardware, software, telecom and service requests of $100,000 or more. Departments submit their information to ETS via a detailed form. Initial results have yielded elimination of unnecessary items/services, improvement of the specificity of project timelines and plans, and, in some cases, renegotiation of proposed contract terms, conditions, and prices in the favor of the State.  Examples include:

Asking for and receiving deeper discounts from vendors in ongoing maintenance software and hardware contracts;
Reducing the length of contract commitments entered into by departments for recurring IT services;
Removing unnecessary/redundant service offerings by vendors in contracts;
Renegotiating statewide enterprise license agreement price hold for database software, resulting in a reduction of cost to the State;
Reducing National Association of State Procurement Officers (NASPO) value-added reseller markup on items purchased off the statewide IT price list;
Teaming with UH to implement a data center strategy resulting in cost savings; and
Executing cost-efficient strategies in selecting and negotiating with vendors for enterprise-wide projects.
Reinstituted the collection of departmental IT requests to spend under $100,000, providing a more complete picture of overall IT spend throughout the executive branch. Analysis of the total IT spend data is underway, looking for trends and opportunities for sharing services.
Worked with the State Procurement Office (SPO) to determine a process by which GSA Schedule 70, General Purpose Commercial Information Technology Equipment, Software, and Services, may be used by Hawaii State departments for IT services. The GSA (General Services Administration) is a federal agency that offers a Federal Supply Schedule Contracts or the GSA Schedules Program to the Federal Procurement Workforce. The GSA Schedules Program was created to streamline government purchasing of commercial products and services and to leverage the buying power of the federal government. CIO or CIO-designee approval is required prior to using GSA Schedule 70 contracts, and departments must adhere to specific policies.
Next Steps
Over the next two years, ETS objectives for IT governance are to continue to refine governance processes for IT projects and, in conjunction with B&F, further institutionalize the process into the annual budget request process, enabling the integration of information into the state's overall IT strategic plans and roadmaps. ETS will also work to reduce costs of existing operations and maintenance (O&M) contracts and provide sufficient governance over new O&M to ensure efficient use of funds as new modern, functionality, and services, are brought online not only for constituents but also for state personnel.
---
Statutory Reference
Resources
---
Contact:
Todd Omura
ETS IT Governance Manager
(808) 586-1824
[email protected]