In the days leading up to the Hawaii outbreak of the COVID-19 pandemic, ETS and department IT staff worked tirelessly to prepare to provide extended remote IT capabilities to State employees.  ETS supports many of the State's most critical applications, including Disability Claims, Unemployment Insurance, Child Support Enforcement, Child Welfare, Human Resources, Payroll, and financial management systems of the Executive Branch and Department of Education, Department of Transportation (DOT)-Highways, just to name a few.
Additionally, ETS supports more than 100 websites that allow citizens to conduct business with the State online, rather than having to go physically to a state office.
Furthermore, ETS provides governance of all state IT projects to ensure projects are properly aligned with business needs and that they are well-engineered and designed to accomplish their intended purpose.
ETS' support to executive department employees in telework has been wide-ranging — from providing communication platforms like Outlook and Teams, ensuring employees could log in from a remote location using multi-factor authentication, providing training on tools being used to telework, to strengthening cyber security efforts.  ETS  updated its resource site for employees who are working remotely: Teleworking.
The following stats are from a few platforms, such as file sharing and collaboration tools, that employees are using to work from home.  Gov. Ige issued a work from home directive for State employees on March 17th, directing as many State employees to telework as possible.  Here's a snapshot of the stats taken from March 17 to May 12.  It shows employees' expanded adoption of IT tools to work from home, compared to use in the pre-COVID period, from Jan. 12 to March 16.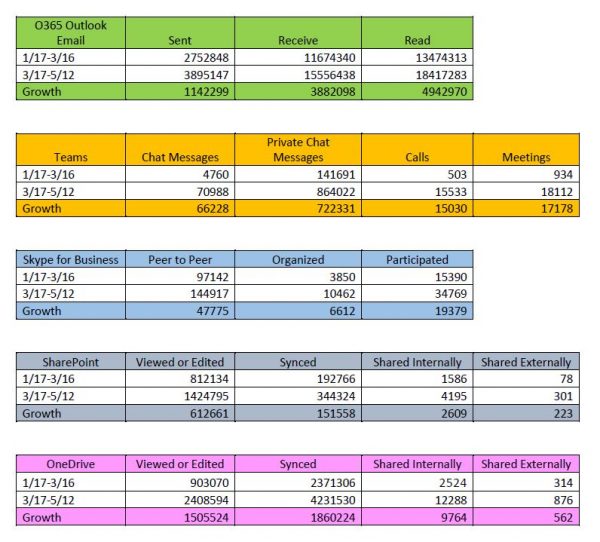 For more on this story and other ETS activities, click here: newsletter