Governor's News Release: Governor Ige signs executive order to protect net neutrality in Hawai'i
Posted on Feb 5, 2018 in Featured, News, Press Release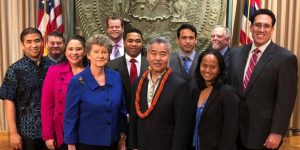 HONOLULU – Gov. David Ige signed an executive order that directs all state government agencies to contract for internet-related services ONLY with providers who contractually agree to abide by net neutrality principals.
Net neutrality protects and promotes a fast, fair and open internet. It prohibits internet service providers from discriminating between content or users.
The Federal Communications Commission (FCC) voted to end net neutrality rules on Dec. 13, 2017. Gov. Ige promised to take steps to protect net neutrality, pledging to ensure that all Hawai'i residents continue to have the benefit of an open platform for innovation, education and free expression.
"An open internet is critically important to our people and our economy, connecting us to the rest of the world, increasing our commerce, fostering innovation, and adding to our economic growth. I have worked with my cabinet members, members of the House and other stakeholders to protect the integrity of this critical resource," said Gov. Ige.
Net neutrality bans paid prioritization of content that is seen on the internet; bans filtering or blocking of content, thus ensuring consumers unfettered access to any lawful content on the internet; and bans throttling of internet speeds for accessing certain content, which would have the same effect as blocking content.
The executive order takes effect today.