HONOLULU – HACCamino, a team from the University of Hawaiʻi, took home the top prize of $4,000 at the Hawaiʻi Annual Code Challenge's (HAAC) Judging and Presentation Day, which was held over the weekend. HACCamino developed a proof-of-concept app to streamline data collection for marine animal sightings and reduce reporting errors in response to a challenge proposed by NIC Hawaii, in partnership with Hawaii Marine Response (HMAR).
Mililani High School's team MARS took home the top high school category prize of $1,000 for its solution to the challenge proposed by NIC Hawaii and HMAR.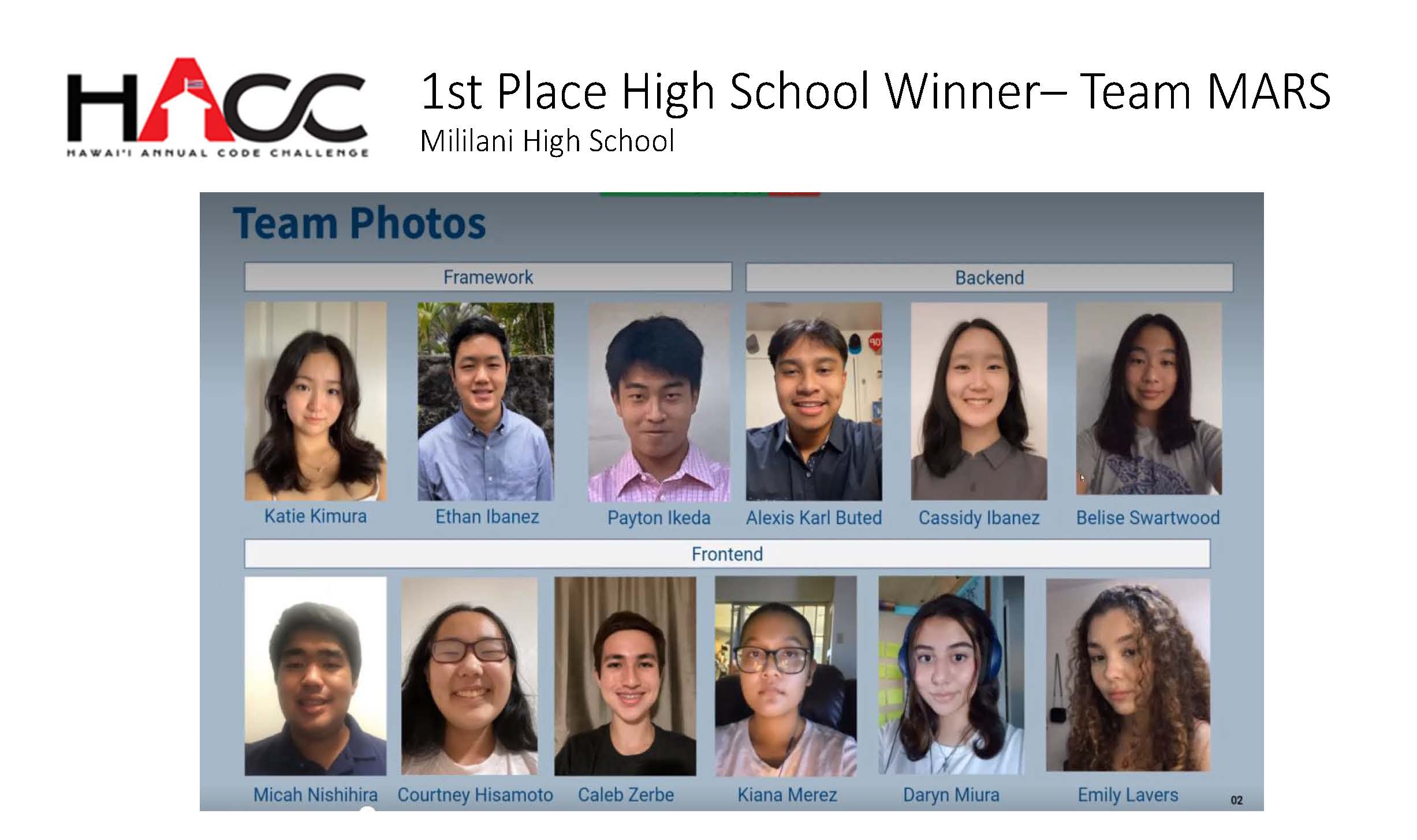 Waipahu High School's team MGK won $500 for second place for its solution to the challenge proposed by the Office of Hawaiian Affairs (OHA), which asked participants to create a chatbot to assist beneficiaries with obtaining important and accurate information relating to benefits.
MGK also took home the People's Choice Award.
Winners:
Prize
Team
Challenge
1st place

$4,000

HACCamino
NIC Hawaii-HMAR Reporting and Sighting App
2nd place

$2,000

Bloombugs (UH-Manoa students)
NIC Hawaii-HMAR Reporting and Sighting App
3rd place

$1,000

PawTrackers (HPU students)
Dept. Agriculture – Animal Quarantine Pet Pickup Notification
High School

$1000

MARS (Mililani High School)
NIC Hawaii-HMAR Reporting and Sighting App
High School

$500

MGK (Waipahu High School)
OHA Chatbot
People's Choice Award
MGK (Waipahu High School)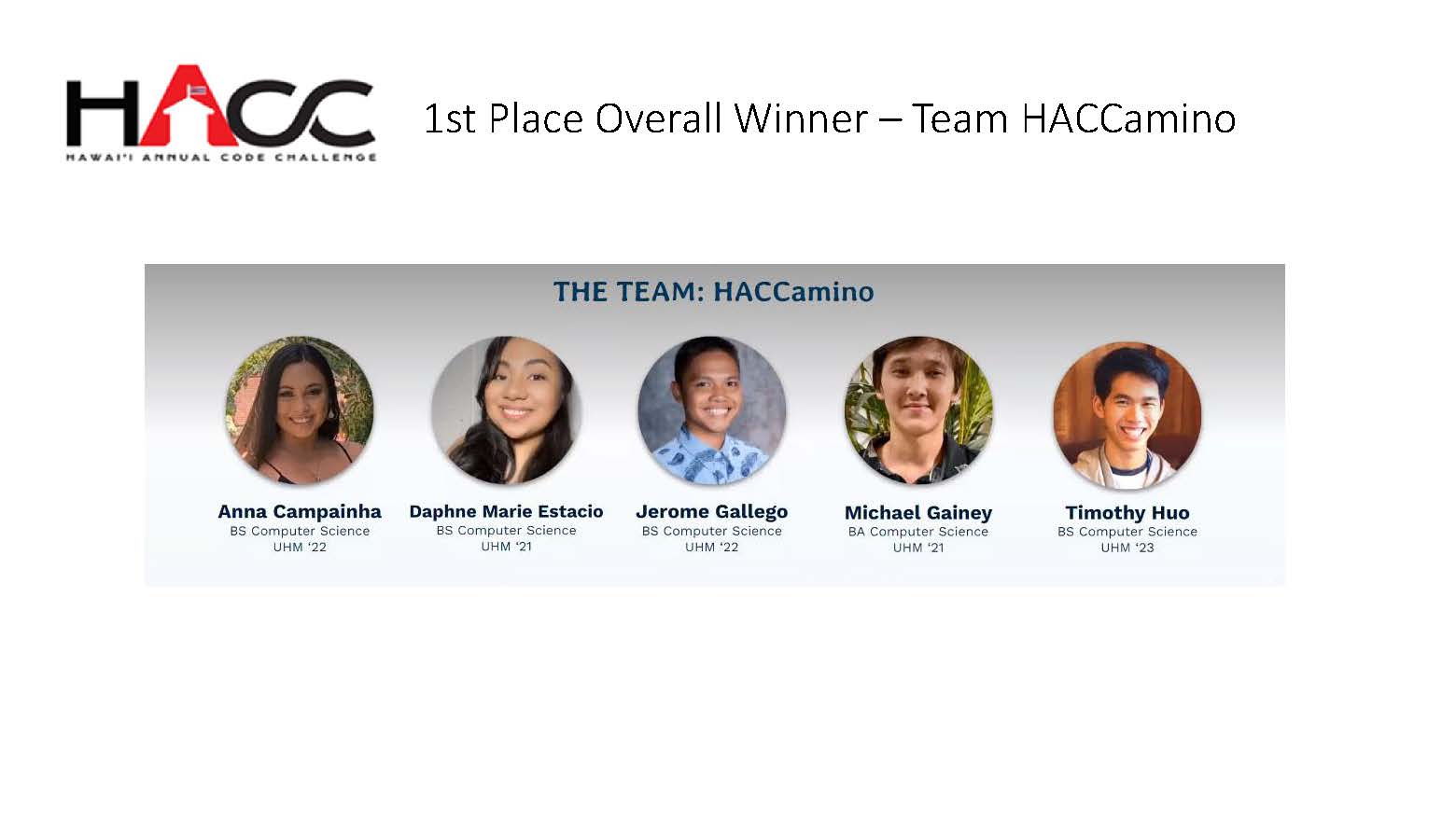 "These teams used the latest and most innovative technology available to propose solutions to real-world challenges. Congratulations to all the winners and participants of this year's HACC," said Gov. David Ige.
"It was exciting to see the how the participants learned new things in the HACC and added them to their existing knowledge to create their solutions. We hope to work with the teams on developing their proof-of concepts further and implement them," said Doug Murdock, Office of Enterprise Technology Services Chief Information Officer added.
Forty-Four teams were formed after the tech competition kicked off four weeks ago. After the technical review, 18 teams moved on to the presentation phase of the competition, which took place on Saturday, Nov. 20. This competition, inspired by Gov. Ige, is in its 6th year.
The HACC generates proof-of-concepts by student, amateur and professional coders to benefit community and State agencies at the idea-phase level, feeding into Hawaiʻi's vibrant innovation ecosystem to promote solutions for community resilience, professional development, local job creation and building local businesses.
The HACC breaks the mold of a traditional hackathon, which typically takes place over a single day or weekend. The HACC provides an expanded multi-week timeframe meant to encourage interaction between community teams and state department personnel, ultimately resulting in sustainable solutions that are appropriately matched with technologies and platforms in use or being considered by the state. Beginning at the HACC Kickoff, community participants form teams and select from a list of challenges. Challenges were proposed by the Dept. of Agriculture-Animal Quarantine, Dept. of Land and Natural Resources, NIC Hawaii – HMAR, and OHA.
Gov. David Ige's vision for the HACC when it began in 2015 included providing an opportunity for civic engagement with the local technology community in modernizing state functions and services for a more effective, efficient and open government. In honor of the fifth year, virtual workshops were held outside of the HACC season beginning in April, to prepare for the competition, including workshops tailored for educators.
The HACC has been nationally recognized with the State IT Innovation of the Year award by StateScoop, the leading government IT media company in the nation's capital.
Sponsors of the event included: Adobe, AT&T, AWS, Google Cloud, Hawaii Data Collaborative, eWorld Enterprise Solutions, Inc., Microsoft, NIC-Hawaii, Revacomm, Salesforce – Carahsoft, Transform Hawai'i Government, and Unisys. Supporters include: DOE Computer Science Team, Hawaii Technology Development Corporation, IMAG Foundation, PCATT, RendezView, TRUE, and UH-Manoa Information and Computer Sciences Dept.
The HACC is a State of Hawaiʻi event, coordinated by the Office of Enterprise Technology Services.