2018 Legislative Update
Posted on Mar 6, 2018 in News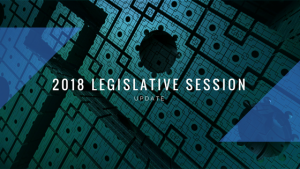 Honolulu — The Office of Enterprise Technology Services (ETS) has been following several bills this legislative session. Senate Bill 2738 SD1, Relating to Found Electronic Devices is one of the bills ETS is tracking. This bill survived first crossover and has made its way to the House for consideration. SB 2738 SD1 gives the authority for law enforcement officials to sanitize electronic devices that are found and handed over. This ensures personal information is protected with unclaimed electronic devices before disposal or if it is turned in for public auction.
Here are other bills ETS is tracking:
HB694 HD2 & SB2788 SD2 – RELATING TO HEALTH
Establishes the Health Analytics Program in the Med-QUEST Division of the Department of Human Services and authorizes the Department of Human Services to maintain an all-payers medical claims data base.
SB2902 SD2 – RELATING TO TECHNOLOGY DEVELOPMENT
Appropriates funds for grants to participants in software application challenges so that the proofs of concept created during the challenges can be developed into prototypes suitable for local and state government. Appropriates funds. Requires matching funds.
HB2651 HD2 & SB2704 SD2 – RELATING TO WIRELESS BROADBAND FACILITIES
Establishes a process to upgrade and support next generation wireless broadband infrastructure throughout the State. Establishes a permitting, application, review, and approval process for wireless service providers to install wireless facilities on state or county owned utility poles, or install associated utility poles, in the right of way. Applies to permit applications filed with the State or county after 12/31/2018.
SB2515 SD2 – RELATING TO STATE EMPLOYMENT
Repeals the authority for department heads to establish positions for special, research, and demonstration projects approved by the governor.
SB2879 SD2 – RELATING TO EDUCATION
Requires the office of enterprise technology services, in collaboration with the department of education, to establish a working group to study the department of education's information technology infrastructure, operations, and services.
HB2225 HD1 – RELATING TO INFORMATION TECHNOLOGY
Provides the Chief Information Officer with full discretion to require independent verification and validation of the information technology projects if certain criteria are met. Requires certain information technology projects to adhere to statewide information technology governance and provides a review process developed by the Chief Information Officer for the information technology project.