Todd Nacapuy, Chief Information Officer
Posted on May 4, 2015 in Uncategorized
"Todd has the right mix of technical and business skills to upgrade the state's technology infrastructure … My commitment to an enhanced IT system is based in my strong desire to improve public access to government services that will ultimately result in improved public trust in state governance." – Governor David Y. Ige
Appointed by Governor David Y. Ige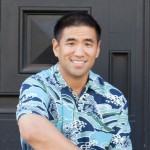 , Todd Nacapuy formally stepped into the role of the State of Hawaii's Chief Information Officer (CIO) on May 4, 2015.
To improve effectiveness and efficiency as well as clarify roles and responsibilities in enhanced governance processes, Mr. Nacapuy consolidated the Office of Information Management and Technology and the Information and Communication Services Division of the Department of Accounting and General Services to form the Office of Enterprise Technology Services (ETS).
Priorities for his technology team include IT workforce development; IT governance; enterprise shared services, projects and programs; open government; and cyber security, ensuring that the right systems and processes are in place to facilitate an effective, efficient and transparent government. Nacapuy brings to the task a breadth and depth of experience in application development, vendor selection and management, and infrastructure acquisition, as well as project management, reengineering, enterprise-wide implementation IT strategy and systems planning, and corporate strategy.
Before joining the Ige Administration, Nacapuy was the senior technical account manager responsible for all Premier Commercial services for Microsoft in Hawaii. Prior to that, as a senior infrastructure specialist for EDS, he led efforts to monitor and optimize all Web services within the Navy and Marine Corps network for the Pacific.
Other Facts
State of Hawaii's third full-time CIO
Nominated by Governor Ige: April 8, 2015
Confirmed by the State Senate: April 22, 2015
Effective start: May 4, 2015
Hometown: Waialua, Oahu
High school: Waialua High School
Practices Jiu Jitsu