IT Spend Request Follow-up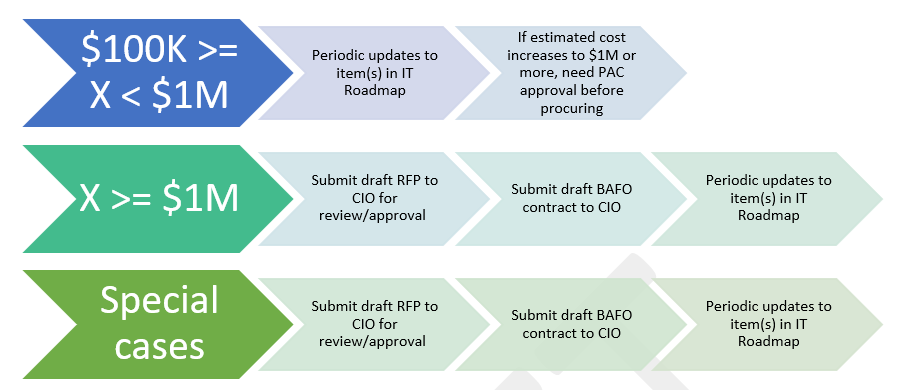 After an IT Spend Request is approved, follow-up information needs to be given to ETS, and related items in the Department IT Roadmap must be updated when status changes.
WHO TO CONTACT
Departments will be contacted by the ETS ITG Analyst assigned to them for follow-up information.
PROCESS
THE NATURE OF THE FOLLOW-UP DEPENDS ON THE AMOUNT OF THE IT SPEND REQUEST.
IT SPENDS THAT ARE $100K OR LARGER
The ETS ITG Analyst assigned to a Department will work with that department to ensure information for individual spend requests is updated in the corresponding items in the IT Roadmap. Updates are done periodically on an as-needed basis.
IT SPENDS THAT ARE $1,000,000 OR LARGER OR IDENTIFIED BY THE LEGISLATURE
Large IT spends and projects specifically identified by the Legislature for special review are required to provide additional documents/artifacts to the CIO as part of the gated review process, per AD 15-02:
Draft RFP must be submitted to CIO for review and approval before proceeding
Draft "best and final" (BAFO) contract must be submitted to CIO
Status review meetings with the PAC may also be requested.